Skyline
High School
X
Search for another school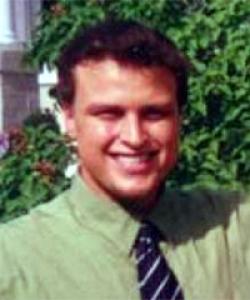 Christopher Michael Nielsen II - 6/2/2010
Class of 2007
Our beloved son, Christopher Michael Nielsen II, passed away on June 2, 2010 in Salt Lake City, Utah. Christopher has returned to the open arms of his Heavenly Father, grandparents and many loving relatives.
Christopher was born to Brooke and Michael Nielsen on December 22, 1988 in Salt Lake City, Utah. He is survived by his parents Brooke (David) Kubinski, mother, Michael (Jolene) Nielsen, father and three sisters, Heather (David) Spear, Elizabeth Nielsen and Amelia Nielsen, along with many aunts, uncles and cousins. His kindness touched all of our lives and we are bereft at his passing.
Christopher possessed many traits that we always admired. We will always miss his laugh and smile. He was gentle and patient with his sisters. He was a fun loving and happy child and had a remarkable sense of humor. He was smart and excelled in school. He graduated from Skyline High School and was a member of the state championship football team. He was always proud to wear his Skyline letterman jacket where he lettered in football, wrestling and rugby. He was attending Utah Valley University and had completed his sophomore year.
Memories of Christopher bring joy to our hearts. He was cherished by his entire family and his place can never be filled. We will miss Christopher each and every day. We long for the day when we can be reunited with him where he is free from the pain, trials and afflictions of this world.
"I love you with all of my heart my dearest Son, you have always been and will always be my sweetheart forever." Mom & Dad
There have been
1
fuzzies left so far.
Sign in
if you'd like to leave a fuzzy
What's a fuzzy?
A "fuzzy", in this case, is a feeling or an emotion like "I miss you", "I love you", or just "thinking of you". Fuzzies can be left every day.