Skyline
High School
X
Search for another school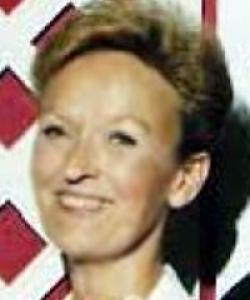 Diane Knudsen Chamberlain - 9/2/2010
Class of 1964
Diane passed away peacefully on September 2, 2010, at her daughter's home in Cedar City, Utah. She has returned to her Heavenly Father and the loving arms of her husband, Ron, her soul mate.
Diane was born on April 14, 1946, to William R. and Lucy Sharples Knudsen in Salt Lake City, Utah. Diane was the oldest daughter in a family of eight children, she was the peacemaker in every situation and always looked out for everyone.
Diane graduated from Skyline High School.
She married Scott Dunn, they had a daughter, Dawn, later divorced. She married Jerry Wheeler, they had a son Dustin, later divorced. Diane moved to Cedar City, Utah, in 1977, and married Ron Chamberlain on September 14, 1979, this union brought another son, Cris. Diane and Ron enjoyed 30 years together. Diane had a great spirit, she always encouraged friendship and forgiveness. It was not unusual to see Scott, Jerry, and Ron, together at various occasions, it was unique how throughout the years she got them all to be friends.
Diane enjoyed life by taking pride as a homemaker and mother. She always kept a spotless home and cooked the best meals. She cherished summers spent at the cabin with Ron, all of the kids, grand kids, and sourdough pancakes.
Diane is survived by her children, Dawn (Troy) Topham, Cedar City; Dustin (Linda) Wheeler, Fort Polk, LA; Cris (Allie) Chamberlain, Washington, UT; Mother-in-law, Dru Chamberlain, Cedar City, UT; 10 grandchildren, 1 great grandchild, her sisters, Kathy, Lonnie, Sharon, brother, Marv, sister-in-law, Anngie, and many nieces and nephews.
She is preceded in death by her husband, Ron, her parents, father-in-law, Bud, her brothers, Bill, Scott, Joe, sister-in-law, Marsha, and grandson Carson J. Wheeler.
There have been
1
fuzzies left so far.
Sign in
if you'd like to leave a fuzzy
What's a fuzzy?
A "fuzzy", in this case, is a feeling or an emotion like "I miss you", "I love you", or just "thinking of you". Fuzzies can be left every day.