Parowan
High School
X
Search for another school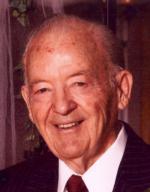 Samuel James Whitney, Jr. - 12/18/2010
Class of 1942
St. George, Utah - Samuel James Whitney, Jr. returned home to his Heavenly Father December 18, 2010 at the age of 86. He was born February 14, 1924 in Parowan, Utah to Samuel J. and Winifred Benson Whitney.
He married his lifelong sweetheart, Glyde Gleave in the St. George LDS Temple on June 6, 1946. He is survived by his wife, Glyde; his children: James Kay (Julie) of Meridan, Idaho, Scott of Salt Lake City, Utah; and his sister, Patricia Joy (Eugene) of Orem, Utah.
He was preceded in death by his two sons: Grayson Gleave and Craig Leroy; his father, Samuel James; his mother, Winifred; and seven brothers and sisters.
Jim grew up in Parowan where he graduated from Parowan High School. After graduation, he entered The United States Navy, where he served his country for three years. He then met his lifelong sweetheart and marriage companion of 65 years in the Sandwich Shop in Cedar City, where they knew at that moment they would be lifelong marriage companions for time and all eternity and that is where their "story" began.
They made their first home in Provo, Utah where Jim attended BYU and then began his career in Floor Coverings of over 40 years with Southeast Furniture and Granite Furniture. Dad enjoyed the outdoors , traveling with Mom in their Fifth Wheel, playing horseshoes and he loved watching old western movies on T.V. Dad was the "Master" of telling stories. No matter how many times you heard the same story, he would always mix it up enough to make it sound like it was the first time he ever told it.
His greatest enjoyment was spending time with Mom and the visits from his children and grandchildren. He loved his family and his many friends and they all loved him. Dad, we are going to miss you and will cherish the many memories you have left with all of us.
We would like to thank the doctors and staff at Dixie Regional Medical Center and the St. George Care Center for their loving care and compassion towards our dad and family.
Funeral services will be held Tuesday, December 28, 2010 at 11:00 a.m. at the St. George LDS 19th Ward Chapel, 550 East 700 South. St. George, Utah. Visitations will be held Monday, December 27th from 6:00 p.m. to 8:00 p.m. at Metcalf Mortuary, 288 West St. George Blvd. and on Tuesday from 9:30 a.m. to 10:30 a.m. at the Chapel, prior to services. Interment will be Wednesday, December 29, 2010 at 11:00 a.m. at Wasatch Lawn Memorial Park, 3401 South Highland Drive, Salt Lake City, Utah.
There have been
0
fuzzies left so far.
Sign in
if you'd like to leave a fuzzy
What's a fuzzy?
A "fuzzy", in this case, is a feeling or an emotion like "I miss you", "I love you", or just "thinking of you". Fuzzies can be left every day.