Tuacahn
High School
X
Search for another school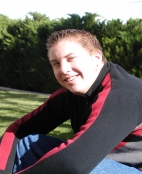 Aaron James Boyd - 6/16/2011
Class of 2006
Aaron James Boyd passed away June 16th 2011. He was born in St. George, Utah on February 28th 1988.
He was the wonderful son of James & Sylvia Boyd. He was the little brother of Amanda Hansen. Aaron was born with bright blue eyes and a contagious smile that captured the hearts of everyone he met throughout his short life. He attended Pine View High School and graduated in 2006 from Tuacahn School of the Performing Arts.
Aaron lived his life with a huge heart, enthusiasm and staggering energy. He was always first to volunteer if a job needed to be done or if someone needed a hand. Aaron's profession was a commercial driver delivering goods and product throughout Utah. There's nothing he couldn't drive or make go fast. He could make a snowmobile dance or jump a motorcycle across the sky. He loved wakeboarding, snowboarding and hiking. He seemed to enjoy most any high energy activity that made a parents heart pause, Aaron was fearless. Then he had an unbelievable softer, deep passionate side he shared with anyone he knew. He especially loved young people and children and enjoyed making them smile.
He is survived by his parents, James and Sylvia Boyd of St. George, UT and sister, Amanda (Sean) Hansen, of Henderson, NV; grandparents, Ebert and Gladys Smith of Sun City West, AZ.
"Sometimes I stop to think of all the people I know... All the people I've met... It hurts to know that some of them I may never see again.... But I know that the ones who played important roles in teaching me things I will always be grateful for and never forget". ~Aaron James Boyd
There have been
0
fuzzies left so far.
Sign in
if you'd like to leave a fuzzy
What's a fuzzy?
A "fuzzy", in this case, is a feeling or an emotion like "I miss you", "I love you", or just "thinking of you". Fuzzies can be left every day.