South Sevier
High School
X
Search for another school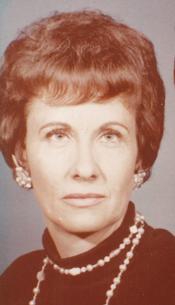 Lydia Grace Christiansen Ivie - 9/22/2012
Class of 1946
SALT LAKE CITY, UT-Our dear Aunt, cousin and friend, Lydia Grace Christiansen Ivie, age 85, died September 22, 2012 at her home in Salt Lake City.
She was born July 30, 1927 in Monroe, Utah, the last of nine children born to Christian Abraham and Helena Catherine Brown Christiansen. She went to school in Monroe and graduated from South Sevier High School, Class of 1946.
Grace married Calvin Quay Ivie, January 22, 1947 in Monroe, at her parents home. This date was her father's birthday. They lived in Aurora and Richfield before moving to Salt Lake. Cal worked as a mechanic and Grace worked for Christensen Diamond Company for 32 years as a diamond setter and secretary. They loved being in their home where they had so many friends and neighbors. Cal died right after coming home from church, July 16, 1989. A year later, they were sealed in the Jordan River Temple on April 21, 1990. Grace has missed Cal terribly. They are together again!
Grace is survived by a brother-in-law: Marvin Christensen of Richfield; sisters-in-law: Bernitta Mecham of Axtell, Burma Christiansen of Salt Lake City and Jeanette Coons of St. George; along with many nieces and nephews.
She is preceded in death by her parents and her siblings: Forrest Christiansen, Blanche Sampson, LaNoy Christiansen, Vonda Huntsman, Ila Huntsman, Madge Christensen and Que Christiansen.
The family would like to extend a special thanks to Millcreek Home Health, Dr. Rahimi and Heather Bettinger for their concern and care of our dear Aunt and especially to Angel Sullivan for her constant care and attendance during Grace's final months. Thank you so much.
There have been
0
fuzzies left so far.
Sign in
if you'd like to leave a fuzzy
What's a fuzzy?
A "fuzzy", in this case, is a feeling or an emotion like "I miss you", "I love you", or just "thinking of you". Fuzzies can be left every day.