Gunnison Valley
High School
X
Search for another school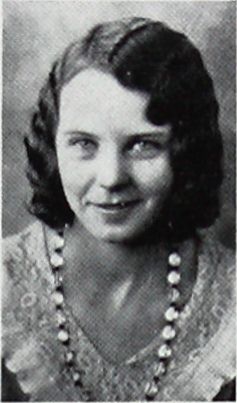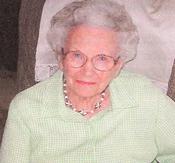 Bernice Sorenson Larson - 6/3/2011
Class of 1931
St. George, Utah - Bernice Sorenson Larson passed away June 3, 2011. She was born in a little adobe home in Axtell, Utah on September 21, 1913 to Peter Marlin and Sarah Lillian Sorenson. She and her two sisters and five brothers grew up on a farm in the strong family community of Centerfield, Utah. She remembered the flu epidemic of 1918. Her family suffered, but they all survived.
She shared memories of Indians, gypsies, hobos, peddlers and tinkers who came to town. There were parades for the 4th and the 24th of July. The celebration was exciting and her precious 25 cents savings could buy an ice cream cone and a box of Cracker Jacks (her favorite). She traveled by horse and buggy, made her own chewing gum from wheat and remembers when silent movies came to town. They didn't get their first car or a telephone until she was in high school, and she didn't learn to ride a bicycle until she was sixty years old! She always loved reading and would be found stirring the gravy or dusting the house with a book in one hand! She loved to go dancing in the open-air dance halls in the area.
At 17 years of age, she graduated from Gunnison Valley High School as her class valedictorian. She and Arnold Ray Larson were married and sealed together for eternity on November 11, 1936 in the Manti LDS Temple. After working several years in the poultry business in Sanpete County, Utah, they ventured into the emerging drive-in theater business and moved their family to Bellingham, Washington where raised their three daughters and served in their community and church for over thirty years. They then retired to St. George, Utah which became the gathering place for family from all over the country.
Bernice was a life-long member of The Church of Jesus Christ of Latter-day Saints, serving in many callings including a mission to the Western Canadian Mission in 1969. She served her family and friends all her life. During her last days, she was surrounded by dozens who came to express love and gratitude for her spunky good example and positive influence in their lives. She looked forward with joy and assurance to being reunited with Arnold and to have their family together eternally. Bernice said, "I've never been sorry I was a farmer's daughter!" and " I want my family to know they are my greatest gift and blessing."
Bernice is preceded in death by her husband, Arnold; brothers: LeVon, Keith, Max and Robert; and sister, Izola. She is survived by her daughters: Barbara (Daniel) Chasan, Pauline Shafia and Susan (Boyd) Adams; eleven grandchildren; 21 great-grandchildren; her sister, Erda Willardson; and her brother, Kurt (Lois) Sorenson. Funeral services will be held Wednesday, June 8, 2011 at 11:00 a.m. at the Metcalf Mortuary Chapel, 288 West St. George Blvd, St. George, Utah.
There have been
0
fuzzies left so far.
Sign in
if you'd like to leave a fuzzy
What's a fuzzy?
A "fuzzy", in this case, is a feeling or an emotion like "I miss you", "I love you", or just "thinking of you". Fuzzies can be left every day.